Kjehl Johansen's Pie & Isolation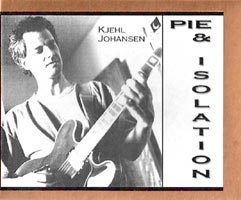 Disc One: "Pieman vs. The Light Bulbmen"
1. Cool. 2. I'm Having A Total Fiasco. 3. Perfect For the Underground. 4. Good Enough
Disc Two: "Tower of Isolation"
1. Summer's Day Lost. 2. Two Yellow Lines. 3. Tower of Isolation. 4. Murder, Theft & Vice. 5. Proof Only. 6. Who's My Wife. 7. Medium Hot, Medium Cool. 8. Awake When We Sleep. 9. On The Run. 10. Nice As Thin Ice. 11. Death of a Riot Grrrl. 12. White Noise Transmissions. 13. The Roar of the Flannel, The Smell of the Crowd. 14. Rabbit & Hat

What? A limited-edition (100 only), signed and numbered 2-CD box set for only $10.99? That's right. Click here to find out how to buy your box from Avebury Records. The lowest numbered boxes are available directly from Avebury Records and at Kjehl's shows. If you prefer, Pie & Isolation is also available at CD Baby and Amazon.
---
Who Is Kjehl Johansen?
Avebury Records' solo artist Kjehl Johansen wasn't always a solo artist. To the contrary, Kjehl has been a chronic collaborator since he first surfaced in 1978 with UCLA's most infamous, influential and unlikely punk band, The Urinals. Initially, he collaborated with Delia Frankel (vocals), Steve Willard (guitar), Kevin Barrett (toy drums) and John Jones (later Talley-Jones, bass).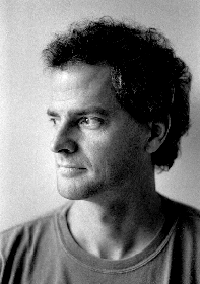 After moving from the backwater position of organ player for The Urinals, Kjehl switched to guitar and began a six-year collaboration with bassist/vocalist John Talley-Jones and drummer Kevin Barrett. The Urinals first two EPs are highly sought-after collectors items that fetch three-figure sums on the open market.
During his stint in The Urinals (later 100 Flowers), Kjehl wrote the book on post-punk minimalist guitar. He brought in stripped down two and three chord structures for the band to build upon (Hologram and Salmonella). In a stroke of genius, he added the second chord to Ack Ack Ack Ack to finish the song. He gave birth to the guitar assault that became the end of Presence of Mind. He laid down a funk groove for All Sexed Up with a guitar part that still sizzles and stings years later. And, he bludgeoned fellow band-mates with the Bo Diddley-rockabilly-voodoo-death riff that led to Motor Boat to Hell, just to drop the name of a few song titles. Once in a while, Kjehl also took over lead vocals, most notoriously on Funky Kjehl.
The band's ability to write and record music outpaced their ability to release it on their own Happy Squid label and the 100 Flowers album and Drawing Fire EP were released after the band's 1983 demise. The official party line for the band splitting was a cliché: "creative differences." Nevertheless, it was an amazing period of creativity and tremendous growth.
Kjehl also branched out during this period to play bass and sing back-up in Narrow Adventure (later Wednesday Week) from 1981 to 1983. Collaborating with Kristi Callan and Kelly Callan, Kjehl wrote the music to The Leopard, a wonderful slice of alternative post-punk pop.
After an uncharacteristic period of inactivity, Kjehl joined up with longtime Urinals/100 Flowers producer Vitus Mataré to form Danny & The Doorknobs (later Trotsky Icepick) in 1986. John Frank, an old band-mate of Vitus's from The Last, played drums on the first two Trotsky albums, which were released on Vitus's label, Old Scratch Grammophon. This band provided Kjehl an opportunity to write music, lyrics and sing in collaboration with Vitus, a sophisticated writer, arranger, vocalist and multi- instrumentalist. The collaboration worked and Trotsky ended up releasing seven albums during its eight-year life span.
Groundbreaking independent label SST Records (Black Flag, The Minutemen, Soundgarden) took an interest early on and signed the band. Baby, Trotsky's third album and its first on SST, perfectly melded the musical and lyrical collaborations of Kjehl and Vitus with the intuitive and solid rhythm section of John Rosewall (formerly of The Last) and Jason Kahn (Downey Mildew and Universal Congress Of).
Coining the phrase "why not break it if it's fixed," Vitus fired himself and Kjehl as vocalists after the critical success of the "Baby" album and invited seasoned front man Talley-Jones to sing. Talley-Jones participated as a "hired gun" for two albums before committing to the band. This period also marked a time of constant personnel changes that continued until Kjehl threw in the towel at the end of 1993. By that time things had gone full circle. Vitus and bassist Mike Patton (formerly of The Middle Class, another influential band with highly collectable early records) had left and Kjehl found himself again in a pared down three piece with John Talley-Jones on bass and vocals and Skippy Glogovac on drums.
The Trotsky period gave Kjehl an opportunity to absorb sound engineering, production and mixing techniques by looking over the shoulder of Vitus, Trotsky's resident producer. During the Trotsky period Kjehl also began to realize he had developed a serious addiction to collaboration. A two-year relapse with The Urinals starting in 1996 confirmed this addiction.
After 22 years, the time had finally come for Kjehl to strike out on his own. The result was two releases on Kjehl's vanity label, Mustard Only. First was an EP, Pieman vs. The Light Bulbmen shows Kjehl's willingness to go it alone. He wrote all three original songs without a collaborator, and played all the instruments on two songs. Kjehl also did most of the producing, engineering and mixing. Lightly assisting Kjehl in the proceedings were drummers John Frank and Hunter Crowley (both Trotsky Icepick refugees) and bassist David Nolte.
Next up was a long-form CD, Tower of Isolation. Here, Kjehl is credited as writer, producer and mixer of the CD. He takes care of most of the vocal, guitar and bass duties. A few other musicians sneak onto the master tape, including Hunter, John and David from the EP, plus Steve Andrews (formerly of The Last), Henry Lu and Tom Watson.
You say you've never heard of these records? You're not alone, and that's where Avebury Records comes in.
With Kjehl not realizing that the ability to write, play, sing and record songs had nothing to do with the business end of things, the Pieman vs. The Light Bulbmen and Tower of Isolation were destined for oblivion from the moment of their release.
To rectifiy this error, Avebury Records has combined the two CDs, with their original jewel box packaging by noted artist Felice Mataré, into a limited edition, signed and numbered, budget-priced box set available now from Avebury Records, Amazon and CD Baby.
The box set is intended to serve as an appetizer for an all-new album from Kjehl, where he will return to his role of collaborator. The as-yet-untitled CD will feature different notable singers on each song, with Kjehl's very personal songwriting and innovative guitar playing gluing it all together.
In the meantime, Kjehl is also entertaining himself and others in two new projects. One is truly a project—The Utility Project. In it, Kjehl returns to his Urinals roots with some seriously non-traditional music. Kjehl has also played guitar on Molded Truths, the new album from The Sixth Chamber.
---