We first saw Bristol's The Get-Outs at the 2003 International Pop Overthrow Festival at the Cavern Club in Liverpool (see above). We were staggered by the powerful delivery of their incredible songs. The band played with an uncommon combination of aggression and enthusiasm that pumped our adrenaline sky high while putting us in a great mood. The Get-Outs—David Edgar on lead vocals/guitar, Keith Bowers on bass/vocals and Matthew Colley on drums/vocals— reminded us of the old-school punk stylings of bands such as The Undertones and Buzzcocks, while mixing in newer touches from more traditional bands such as The Smashing Pumpkins. We snapped up their homemade Brand New Start 5-song CD-R and listened to it all the way home.

When we returned to the UK a few months later for Lovestock 2004, we were happy to see on The Get-Outs' extensive official website that the band was playing at the legendary Hope & Anchor club in London the day we arrived. Seeing them again, they didn't just live up to our memory of the IPO show, but they had gotten even tighter and harder. We bought their next CD-R, the 5-song The Need Is A Must EP.

Upon arriving home we exchanged a few e-mails and convinced The Get-Outs to record an album's worth of material for Avebury Records. The result, Get The Message, is a lucky 13 unforgettable songs and a sound that will remind you of why rock and roll still matters to some of us. To hear a couple of songs from Get The Message, click here to download the free Avebury Records DIY Compilation.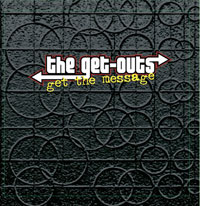 Click on the cover to buy Get The Message
Of course, we aren't the only fans of The Get-Outs:
Venue Magazine: Kings of the catchy chorus...a punkier, edgier sound that is getting them a lot of attention 'round these parts...a high-octane mash up of punk, mod and indie...A blistering blend of Wilco Johnson, Supergrass, and late '70s neo-mod warriors The Chords, but somehow adding a fresh new slant to all of that old skool business.
Decode Magazine: The Get-Outs are relentless and remind us that the most exciting sound doesn't inspire with hidden messages or quirky observations; feeling alive is all that matters. Short, punching choruses howled down the mic by a lead singer/guitarist with electric eyes ignite an energy that is missing from too many styles of music. You have to go back in time to the first punk era to experience similar levels of energy from hard guitar anthems that leap around at a rapid pace...In Drowning, The Get-Outs have produced the kind of primal rock gem that The Hives would sell every one of their mothers' kidneys to write. With a vocal performance that packs more emotional punch than a bellicose Walt Whitman and a fine Kinks-esque guitar solo, this song is easily more important than life itself.
Evening Post, Bristol: Dave Edgar is particularly animated, and with a vocal delivery that falls somewhere between Placebo's Brian Moklo and the Buzzcocks' Pete Shelley, he's instantly eye-catching.
Moles Club Reviews: No-frills scatter-gun riffs in a suitably punk-rock manner.
Bristol Live Music: There are not unwarranted comparisons between this lot and the Buzzcocks. They play a sort of punk/mod/rock hybrid, which could turn out to be rather bland in some people's hands, but they exude energy and know a really good guitar riff when they hear one."
---