Before The Rage (1974-1976)
In the Southern California summer of 1974, Paula Pierce's friend Brigitte Cusimano was showing pictures of her brother's friends to Paula in a yearbook. 14-year-old Paula noticed a photo of Don Williams, a 15-year-old senior-to-be honor student, and expressed interest in meeting him. Despite the fact that Paula lived in Chino, California and Don lived 14 miles away in West Covina, Brigitte invited Don to come watch Paula play some music.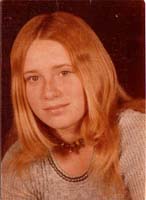 Don first saw Paula as she played a 20-minute classical music piece in front of thousands of people...on an accordion, in a formal gown. Although Paula was dismissive of her talent, she was a world-class accomplished musician. Paula and Don met later that day and a short romance ensued, followed by a long friendship and, later, an unlikely musical collaboration.

When Paula and Don's paths crossed, Paula's interest in music was hit radio-based, with her small record collection made up of albums typified by Deep Purple's Machine Head, Bachman-Turner Overdrive's Not Fragile and The Beach Boys' Endless Summer. A budding record collector, Don introduced Paula to under-the-radar glam-based music she had never heard, including The Sweet, Sparks, Queen, New York Dolls, Mott the Hoople, T. Rex, Roxy Music, David Bowie and 10cc—along with classic '60s records from bands like The Who, Rolling Stones and The Kinks.
Trips to nearby Rhino Records store in Claremont changed the character of Paula's record collection and her devotion to music—though she continued to play the accordion competitively. Spending the night for tickets (usually at the Santa Monica Civic Auditorium) for many of the bands listed above was a common occurrence. Paula even developed a taste for progressive music—her favorties being Emerson, Lake and Palmer, The Nice, King Crimson, Yes, Triumvirat and Public Foot The Roman.
In April 1976, another change in Paula's musical life occurred when she wasn't even there. Don and his girlfriend, Sue Greenberg, went to go see a rock 'n' roll show at an on-campus club at California Polytechnic University, Pomona. On the bill were two bands yet to release a record—The Runaways and The Quick, both proteges of the legendary Kim Fowley.

The two were already sold on The Runaways, having read about them in Phonograph Record Magazine. However, they were really taken by The Quick, a band Don described as "a cross between Sparks and The New York Dolls" in a review for his college newspaper, the Mountaineer Weekly at Mt. San Antonio College in Walnut. He spoke with the band afterward and they invited him to see them play at The Starwood, a Hollywood club that catered to signed bands, as there was no local scene in Los Angeles in the Spring of 1976.

This introduction to local music, along with the release of the first Ramones album a couple of weeks later seriously intensified Paula, Don and Sue's interest in music. The three quickly immersed themselves in the new local band scene that summer, and that meant lots of shows including The Dogs, The Pop, Atomic Kid (later The Zippers) and, of course, The Quick. Along the way, Robin Cullen, a 14-year-old friend of Paula's started tagging along to the shows.

In the summer of 1976, Sue's youth group at Temple Shalom in West Covina promoted an early evening show featuring The Quick with an admission price of 50 cents. Kim Fowley and his entourage demanded to be fed after soundcheck and Don's parents stepped up with a pool party/BBQ on minutes notice. The Quick performed Master Race at the Temple with Danny Wilde wearing a traditional Jewish skullcap, much to the dismay of a few of the Temple's more conservative members. Fortunately, a few of members of The Quick were Jewish and able to smooth things over, explaining that the song trivialized Nazis.
The crowd of suburban kids weren't quite sure what to make of The Quick. One person at the show, Jeff Johnson (a classmate of Sue and Don's) yelled out, "Play some Hendrix!" Danny Wilde's reply that instantly became part of Quick fan lore: "Hendrix? He's dead!" Regardless, the crowd was generally enthusiastic and supportive.
A few months later, the Ramones and The Quick unwittingly conspired to set the wheels in motion for these four friends to form a band. The Ramones made it look deceptively easy to play in a great band, even if you didn't have virtuoso skills. That really didn't mean much to Paula and the other three until The Quick dropped their favorite song, Teacher's Pet, from the set list and it wasn't going to make the upcoming Quick LP, Mondo Deco.

---
---
Before The Rage (1974-1976)
The Direct Hits (v.1, 1979-1980)
The Direct Hits (v.3, 1980-1981)
The Direct Hits (v.4, 1981-1982)
Action Now (v.2 1983-1984)
---
Artists • Buy Something! • Discography • News • Sounds • Links • Mailing List • FAQ • Contact